New Patient Information
We welcome the opportunity to provide orthodontic care to you or your family. A referral from a dentist is not required to be seen by our practice.
Your Initial Appointment
When you call, our staff will explain your first orthodontic visit to you. They will also gather enough information to check your insurance benefits for you, and have everything ready for your first visit. We will schedule an appointment for you or your child to have a thorough, individualized examination with Dr. Hunter. A Welcome Packet will be mailed to you prior to your first visit.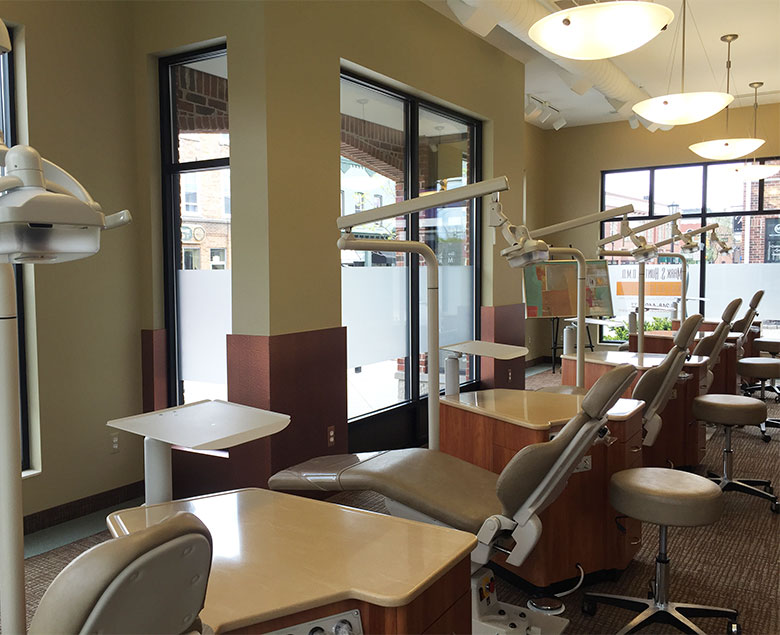 At the first visit to Hunter Orthodontics in our downtown Northville, Michigan office, Dr. Hunter will assess the patient's medical and dental history, discuss any concerns, and examine the patient's teeth and bite to determine if he/she would benefit from orthodontic treatment. If so, we will provide you with an overview of treatment options and the costs involved.
Orthodontic Records
At the first or a subsequent visit, orthodontic records are made to ensure a complete diagnosis and to determine the best course of treatment. Complete diagnostic records typically include photos of the patient's face and teeth, digital x-ray images of the teeth and jaws, and digital intraoral scans (no impressions!).
Our High-Definition Digital X-Rays provide clearer, sharper, more detailed images that allow us to get a more accurate look at our patients tooth and jaw structure to aid in defining the most effective treatment options.
We use a state-of-the-art Digital Scanner to create an accurate digital model of your teeth, replacing the traditional – and often uncomfortable – method of taking a dental impression using molds.
Our radiation-free scanner increases patient comfort (no more gagging!). It allows for more precise measurements of your teeth and bite ensuring a more comfortable fit of your othodontic appliances and an improved outcome for your treatment.
Using these photos, x-rays and digital models, Dr. Hunter will develop a custom treatment plan for each patient. These records are also helpful in tracking the progress of treatment as the teeth are directed to a more desirable position under Dr. Hunter's care.
Consultation and Treatment
After Dr. Hunter has evaluated your records, he will review them with you and discuss your treatment in detail. Usually treatment will commence on the same day.
Regular Appointments
The appointment when you get your orthodontic appliances (braces, expander, etc.) usually takes about one hour. You'll then be seen at regular intervals 4-6 weeks apart for adjustments, which take 15-30 minutes.
Convenient Weekday Hours
Available between 7:30 am and 7:00 pm
Please call for availability
248-449-1677
If you cannot keep an appointment, please notify us as soon as possible. You should only cancel your appointment if it is an emergency, to prevent any delays in treatment.
As the majority of our patients are of school age, it is impossible to see all patients after school. For this reason, longer appointments are scheduled in the mid-morning and shorter visits in the early morning and after school. We appreciate your cooperation in this matter.
Insurance
If you have insurance, we will help you determine the coverage you have available. We accept most insurance plans and file the necessary paperwork with your insurance provider. Coverage may vary and patients are responsible for any copays. If the expected amount is not received from your insurance company, the remaining balance becomes your responsibility.
Fees & Payment Plans
The cost of treatment depends on the severity of your problem and the length of time needed to correct the problem. You will be able to discuss the fees and payment options before treatment begins. We are creative in our efforts to make orthodontics affordable for every patient.
In an effort to keep orthodontic fees down while maintaining the highest level of professional care, we have established the following financial policy:
If full payment is made at the onset of treatment, we will offer a bookkeeping courtesy.
To fit your individual needs, financial arrangements can be made to extend your payments over a period of months. Full payment is necessary before treatment is completed.
For your convenience, we accept payment by Visa, MasterCard, Discover, debit and personal checks.
We offer professional and family courtesies.
Emergencies
Please call our office at 248-449-1677 for any emergencies. An emergency appointment may be made when you have severe pain, a loose bracket/band or an irritating arch wire.
Hunter Orthodontics welcomes new patients.
Call 248-449-1677 to schedule your free no-obligation initial consultation.
Contact Our Office